CSS button generator
opacity
letter spacing
font size
text color: #
font family
Arial

Arial Black

Oswald

Open Sans Condensed

Anton

Oxygen

Josefin Sans

Quicksand

Orbitron

Hammersmith One

Julius Sans One

Montserrat Alternates

Michroma

Aclonica

Carrois Gothic

Ramabhadra

Pattaya

Lucida Sans Unicode

Alfa Slab One

Audiowide

Bowlby One SC

Comfortaa

Nova Flat

Fredoka One

Lobster Two

Press Start 2P

Cinzel Decorative

Gruppo

Megrim

Lemonada

Offside

Asset

Nova Oval

Jacques Francois Shadow

Warnes

Kaushan Script

Great Vibes

Shadows Into Light Two

Homemade Apple

Leckerli One

Calligraffitti

Walter Turncoat

Eagle Lake

Roboto Mono

Source Code Pro

Share Tech Mono

Courier New

Bitter

Merriweather

Bree Serif

BioRhyme Expanded

Playfair Display SC

Slabo 13px

Fauna One

Alegreya SC

Vollkorn SC

Artifika

Holtwood One SC

Italiana

Rhodium Libre

BioRhyme

Georgia

Times New Roman

Almendra
opacity hover
transition speed
text color: #
background color hover
+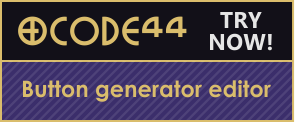 button text:
url:
background color

i

x

Combine the button with your color you use in your own webpage. All kind of CSS color codes are possible.
WEBDESIGN ASSISTANT
CSS color palette generator
This page is not available for your device!
Use a desktop or laptop/ notebook if you want to use this application.
HOME